Find out how switching to jute & cotton bags benefit you and everyone around you.
A Few Benefits
To Suppliers

Increased brand value by creating lasting impression on customers.
It is easily available.
Can be used for promotional purposes.
High demand means high liquidity.
Can be customized by printing logos and slogans.
High profitability.
Minimal space requirement for stocking.

To Consumers

It is reusable.
It is cheap.
It is eco friendly.
Does not require any maintenance.
Can carry heavy weights.
It is long lasting and durable.
It is very attractive and easy on the eyes.
In the current era where pollution is an ever increasing issue it is our responsibility to do what we can to help prevent and minimalise it. One of the biggest source of pollution are plastic bags. Plastic bags are non bio-degradable and very costly and inefficient to recycle when disposed.
Jute Bags and Cotton Bags have proved to be an ideal replacement for plastic bags. Bags made from these natural fibres are bio-degredable, eco-friendly, reusable and at the same time help create awareness to the disadvantages of using plastic bags.
In addition to the above mentioned benefits there are other various advantages of using jute and cotton bags to both the supplier and the consumer which are listed below -
The selection of the fabric from which a bag is made needs to be done appropriately to suit and facilitate the purpose of the bag. All these fabrics have various properties which make them better suited for some applicatons than others.
Jute

Jute is ideal for making heavy duty shopping ,carry and drawstring bags due to its sheer strength. It is a non transparent fabric and available in various colors. This fabric is stronger and heavier than cotton. Only jute can provide the strength required to make bags for carrying wine bottles.
COTTON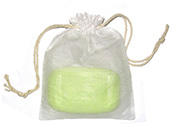 Cotton can also be used for making shopping, carry and drawstring bags. It can also be used to make gift bags as cotton is also available in sheer/transparent form. While not as strong as jute , it can also lift significantly heavy weights. It is lighter, smoother and takes less space than jute.
ORGANZA

Indian Organza is a fabric available many colors including metallic gold and silver with combination of various colors like pink, emerald, lavender, blue etc. These combinations give products very rich two tone look and finish. These can be used as most attractive packaging for gifts, jewelry, potpourri, herbs, soaps, candles, glass pebbles.The photography cannot begin to show the iridescent beauty of this truly stunning series of bags.